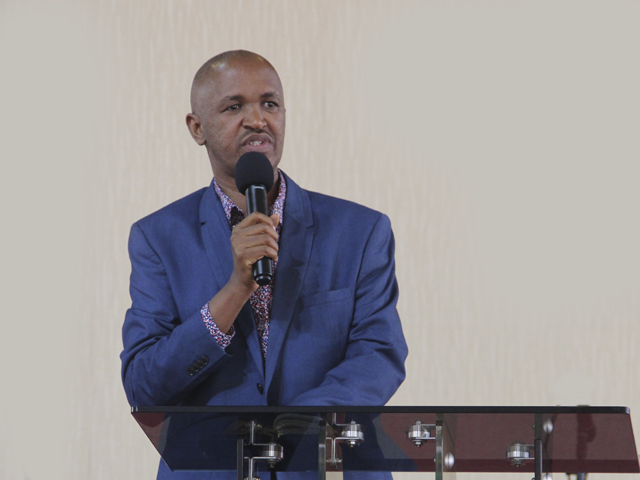 KUGENDANA NA YESU. / WALKING WITH JESUS.
 Ev. Vincent SAFARI.
Muri iyi Si hari abasezerana kuzabana igihe gito, ariko kwiyemeza kugendana na Yesu ni ngombwa kandi ni urugendo ruhoraho twagereranya n'urushako. Henoki wabayeho imyaka irenga 300 ni urugero rwiza rw'umuntu wagendanye n'Imana ikamujyana mu Ijuru.
Muri Luka 24:13-35 hatwereka abigishwa babiri bari mu nzira ijya Emawusi baganiraga ku byabaye kuri Yesu wari umaze iminsi mike yishwe. Bakiganira, Yesu arabegera ajyana na bo kugeza ubwo amaso yabo y'umwuka yahumutse baramumenya. Bitwereka ko ari iby'ingenzi kuganiro ku Ijambo ry'Imana no kurisoma; kuko iyo ubikoze, Yesu araza kuko ari we Jambo ry'Imana maze akagusobanurira ibyo utazi. Kugendana  na Yesu ni uguha agaciro Ijambo ry'Imana kugirango utsinde mu rugendo rwawe rwose rw'ubukristo kuko Imana ikora iciye mu Ijambo ryayo. Kuryumva ni ko kuzana kwizera kudushoboza kunezeza Imana. impamvu bariya bigishwa babiri bari mu nzira ijya Emawusi bamenye Yesu nyuma ni ukubera ko batari bafite KWIZERA. Nawe ujye wumva kandi wizere Ijambo ry'Imana.
Gusoma Ijambo ry'Imana bigomba kujyana no gusenga kuko bikwegereza Imana bigatuma uhabwa imbaraga. Amasengesho ni uburyo bwo guca bugufi kandi afasha mu kumenya Imana, kuyoborwa no guhishurirwa imigambi y'Imana. Gusenga bizana kubaho kw'Imana muri twe no gusabana nayo, ni yo mpamvu byuzuzanya no gusoma Ijambo ry'Imana.
Iyo wegereye Imana, amaso yawe arahumuka kuko iyo ugendana nayo umenya ibintu bidasanzwe. Urugera, Elisa yabonye akoresheje amaso y'umwuka ko ingabo z'Imana zimukikije mu gihe umugaragu we yari yatewe ubwoba n'ingabo z'abantu zari zibagose akoresheje amaso y'umubiri. Iyo wegereye Imana iragukomeza kuko uba uri kumwe n'imbaraga ziruta izindi zose.
Numara kumenya ibya Yesu ntukage ubyihererana, ahubwo ujye ujyana ubutumwa bwiza ku bandi udafite ubwoba kugira ngo bamenye imbaraga n'ibyiza atanga. Ingeso zawe nziza nazo zigomba gutanga ubuhamya kuri Kristo wizeye.
Ni yo mpamvu ikintu cya mbere kiruta ibindi ari uguha Yesu ubugingo bwawe ukagendana nawe no gufasha abandi muri iyo nzira.
Ibyanditswe: Luka 24:13-35, Abakolosayi 3:16, Abaheburayo 11 , Yohana 20
WALKING WITH CHRIST
We have in this world people who are engaged in trial marriages that are temporally, however deciding to walk with Jesus is a life-time and important journey comparable to a marriage. Henoch is a good example of a person who walked with God for more than 300 years before being taken to Heaven.
Luke 24:13-35 indicates two disciples who were going to Emmaus while talking about Jesus who had Just been killed few days before. When they were still talking, Jesus joined and walked with them until their spiritual eyes were opened, and they recognized Him. This shows that it is very important for us to read, meditate and talk about the Word of God. Doing so facilitates Jesus who is indeed the Word of God to come and explain to us what we couldn't understand. Walking with God is valuing His Word so that you can be victorious in your spiritual walk, because God works through His Word. Hearing the Word of God brings faith which pleases God. The aforementioned two disciples were able to recognize Jesus because they had their faith back. I encourage you as well to always listen and have faith in the Word of God.
Reading the word of God must go hand in hand with a prayer, for if both are combined, they will draw us closer to God and strengthen us. Praying makes us humble and enables us to increase our knowledge about God, this helps us also to be led by the Holy Spirit and get more revelation about the plans of God. Prayers bring the presence of God in us and we are able to fellowship with the Holy Spirit. That is why it must go hand in hand with reading the Word of God.
When you are closer to God, your spiritual eyes are opened and you are able to see special things. Elisha is a good example; on one hand he was able to see any army of angels surrounding them using his spiritual eyes, while on the other hand, his servant could only see their enemy's armies using his physical eyes which terrified him. When you are closer to God, it makes you stronger because you have power that is greater than any other power.
Once you have tasted the goodness of Christ, don't keep it to yourself; go out and proclaim the good news to others boldly, so that they may know His power and His goodness too. Your good conduct should also witness Christ you believe in.
The greatest thing you can ever do is giving your life to Christ, walking with Him and helping others in that journey.
Scriptures: Luke 24:13-35, Colossians 3:16, Hebrews11 ,John 20