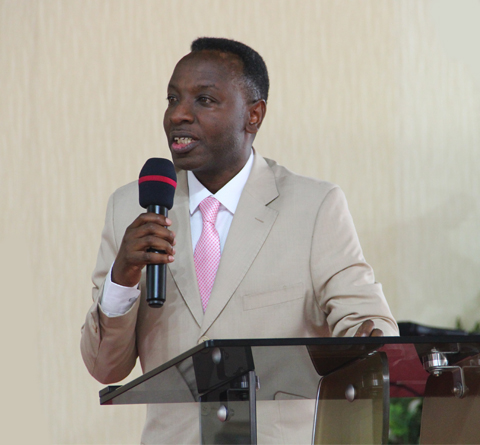 HANGA AMASO UMUSARABA UBEHO / LOOK UP TO THE CROSS AND LIVE
HANGA AMASO UMUSARABA UBEHO 
Kubera urukundo n'umugambi mwiza wo gucungura umuntu, Imana yakoresheje uburyo bwinshi kugirango abantu be kurimbuka. Urugero ni ukuntu yerekanye ko urubyaro rw'umuntu ruzakandagira inzoka (satani). Urundi rugero ni abo Imana yarokoye igihe cya Nowa, Mose akura ab'Isiraheri muri Egiputa; inkuru yo kuvuka no kubaho kwa Yesu, byose byari mu mugambi w'Imana kuva  kera kugirango icungure umuntu waremwe mu ishusho yayo.
Yesu yaje kuducungura kugirango tutazarimbuka, ahubwo tubone agakiza kandi tugire ubugingo buhoraho. Agakiza gashingiye ku rukundo, imbabazi n'ubuntu bw'Imana.
Mose yabwiye abantu b'Imana ko umuntu wese wo muri bo nazamura amaso akareba inzoka y'umuringa yari yamanitse akira ubumara bw'inzoka zabaryaga. Ababyizeye bakabikora barakize, mu gihe ababihakanye barimbutse. Byashushanyaga icyo Yesu yagombaga gukora. Uwizera Yesu ni we uzakizwa nkuko Ijambo ry'Imana ritubwira.
Yesu yemeye gutanga ikiguzi kugirango aduhuze n'Imana. Yatanze ubuzima bwe kugirango twebwe, abanyabyaha nitumwizera tukamuha ubuzima bwacu twe kurimbuka ahubwo tubabarirwe ibyaha kandi aduhuze n'Imana. Nuko rero, kwitanga kwa Yesu kwabaye igitambo gihagije iteka ryose.
Kubera ibyaha by'abantu byari byinshi, ibitambo by'inyamaswa byatangwaga ntibyanyuze umutima w'Imana, ariko igihe Yesu yadupfiriye, Imana yanyuzwe n'icyo gitambo kidushoboza gucungurwa – nta kindi gitambo tugikeneye.
Ijambo ry'umusaraba kubarimbuka ni ubupfu, kuko bareba umusaraba ariko ntibazirikane icyo ugamije. Amaraso ya Yesu nibwo buryo budutandukanya n'abandi ndetse bukanaduhuza n'Imana bukanasana imitima yab'abyizera.
| | |
| --- | --- |
| Ibyanditswe: | Itangiriro 3:15; 1 Petero 1:20; Abaroma 9:10; Kubara 21:4-9; Yohana 3:14; 19:28-30; 1 Abakorinto 1:18; Abagalatiya 4:4 |
LOOK UP TO THE CROSS AND LIVE
Due to the love and the great plan of salvation for mankind, God has used so many ways that people may not perish. One good example is how God indicated that the offspring of human kind will crush the serpent's head(Satan). Another example is when He saved people at the time of Noah, as well as when Moses brought Israelite from Egypt; The story of birth and life of Jesus Christ was all about the plan of God to save people that He has created in his image.
Jesus came to save us that we may not perish but instead have salvation and eternal life.
Salvation is founded on Love, Mercy and Grace of God.
Moses asked the people of God to look up to the bronze snake he had made and hanged on a pole so that whoever would look at it is healed. Those who did it accordingly, they healed. On the other hand, those who did not believe it, they perished. This was an illustration of what Jesus was planning to do for us. He who believes in Jesus alone will be saved based on what the word of God says.
Jesus accepted to pay the cost so that He may reconcile us with God. He paid the cost by His own life so that we who are sinners, once we believe in him and give him our lives we will not perish; we will be forgiven our sins and be reconciled with God. Therefore, Jesus's sacrifice was a sufficient sacrifice once and for all.
Because of multitude of sins, all other sacrifices did not satisfy God. Howeverwhen Jesus died for us, His sacrifice satisfied God and we were therefore able to be saved- we don't need any other sacrifice.
The word of the cross to those who are perishing is foolishness referring to the Bible; they look at the physical cross but do not understand its purpose. Jesus' blood alone is the way in which we are distinguished from others and the only way we are reconciled with God. This is also the only way the hearts of believers are healed and restored.
| | |
| --- | --- |
| Scriptures: | Genesis 3:15; 1 Peter 1:20; Romans 9:10; Numbers 21:4-9; John 3:14; 19:28-30; 1 Corinthians 1:18; Galatians 4:4 |