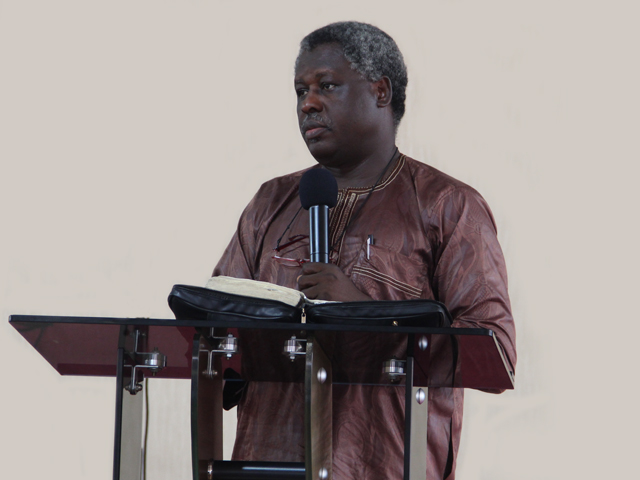 BUILDING A PERSONAL ALTAR / KUBAKA IGICANIRO CY'UMUNTU KU GITI CYE.
BUILDING A PERSONAL ALTAR. / KUBAKA IGICANIRO CY'UMUNTU KU GITE CYE.
An altar is a place of meeting with God. It is an opportunity of interaction, a place where God reveals himself to the individual and brings understanding of His purpose on one's life.
Historical examples of the altars in the Bible include the following:
Noah's altar referring to Genesis 8:20; Noah raised an altar, worshiping God for saving him. After this altar, The Lord smelled a sweet savor. And this led God to speak.
Abraham's altar based on Genesis 12:8.
In the Old Testament, altars were built as memorials about what God had done in the midst of his children. This started with the patriarchs, continued at the period of Kings and prophets. God spoke to and interacted with His people, because they had a place to meet with Him.
Unfortunately, nowadays many people don't spend time with God. When there is no personal altar, God does not manifest Himself. A personal altar gives God opportunity to address this issue. Serving and following a God we do not know, creates a dangerous Christianity. In fact, the knowledge of God makes our relationship with Him deep. There is therefore a need of a meeting place. Otherwise the understanding of God will be significantly reduced.
The spiritual life depends on the personal interaction with God. God had commanded people of Israel to build altars. Exodus 20 indicates how God started training Israel to have a personal relationship with Him. Prior making it personal, He had given a command that it was supposed first to be congregational. Instruction given on verse 26 have the following important principles:
The altar should be made of stones which are not polished, not decorated, not worked on before. This means that when we come meet God, we should come as we are.
There should not be steps on the altar so that the nakedness might not be seen. This means that we should not jump as we approach God and skip some steps to avoid missing what He has prepared on our journey. But we should just approach Him steadily.
God wanted a relationship with people. While God was introducing His principles referring to Exodus 16, He made manna rain outside the camp. The walking distance to do on daily basis to go collect this food was a test to see if Israel would obey the law of God.
Food was provided early in the morning as it melted when the sun waxed hot. God is making His people responsible. God had provided food, but man had to show desire and go out to get it. This refers to the bed where we are supposed to wake up from. Manna was something more than physical food. The intent of God was to teach to his people responsibility and relationship. In the morning, we have fewer distractions and we have high level of concentration. What is not collected at the right melts and is not appropriate for spiritual life. Moreover, God does not provide less or more than what is needed for the day. God cares for us according to our need.
| | |
| --- | --- |
| Scriptures: | Genesis 8:20; 12:8; 13 :18, Exodus 20:24-26; 16:3-4, Isaiah 50:4, Psalm 5:3, Mark 1:35 |
KUBAKA IGICANIRO CY'UMUNTU KU GITE CYE.
Igicaniro ni ahantu umuntu ahurira n'Imana. Ni amahirwe yo kuvugana n'Imana, aho yihishurira umuntu, ikamuha kumenya ubushake bwayo ku buzima bwe.
Dore amwe mu mateka y'ibicaniro dusanga muri Bibiliya:
Igicaniro cya Nowa dusanga mu Itangiriro 8:20; Nowa yubatse igicaniro, ahimbaza Imana yamurinze. Nyuma yo kubaka iki gicaniro, Imana yahumuriwe n'impumuro nziza. Ibyo byateye Imana kuvuga.
Igicaniro cya Aburahamu, tubisanga mu Itangiriro 12:8.
Mu Isezerano rya Kera, ibicaniro byubakwaga nk'urwibutso rw'ibyo Imana yakoreye ubwoko bwayo. Ibi byatangiranye n'abasokuruza mu byo kwizera, birakomeza no mu gihe cy'Abami n'Abahanuzi. Imana yavugishaga ubwoko bwayo kuko babaga bafite ahantu bahurira na Yo.
Ikibabaje n'uko muri iki gihe, abantu benshi batakigira igihe cyo guhura no kuganira n'Imana. Iyo umuntu nta gicaniro cye bwite agira, Imana ntimwiyereka cyangwa ngo imwihishurire. Igicaniro bwite ni cyo gishobora gukemura icyo kibazo. Gukurikira no gukorera Imana utazi, biteye ubwoba kuko tugira ubusabane bwimbitse n'Imana iyo tuyizi.
Ubuzima bwacu bwo mu mwuka buturuka ku busabane tugirana n'Imana. Imana yari yarategeste Abisirayeli kubaka ibicaniro. Kuva 20 hatwereka uko Imana yatangiye kwigisha Abisirayeli kugirana nayo ubusabane. Kuri bo, yari yarategetse ko guhura nayo biba rusange. Iby'umuntu ku giti cye byaje nyuma yaho. Ku murongo wa 25 na 26, tuhabona amabwiriza akurikira:
Igicaniro cyagombaga kwubakwa n'amabuye atabajwe, adatatse, atagize icyuma kiyakoraho. Ibyo byerekana ko dukwiriye kujya imbere y'Imana uko turi.
Nta rwuririro rukwiye kujya ku gicaniro kugira ngo ubwambure butakigaragariraho. Byerekana ko iyo tuje imbere y'Imana, tudakwiriye kugira icyo dusimbuka mubyo Imana yaduteganyirije, ahubwo dukwiriye kuyegera twitonze.
Mu Kuva 16, tuhabona ko Imana yifuzaga kugirana ubusabane n'ubwoko bwayo ubwo yabigishaga amahame yayo. Yabahaye manu bagombaga kujya gutoragura hanze. Imana yageragezaga imitima yabo ngo irebe ko bubaha amategeko yayo, ibasaba kujya hanze buri munsi gufata iyo manu.
Iyo manu bayihabwaga mu gitondo cya kare, bwamara gucya, izuba ryarasa ikayonga. Aha Imana yigishaga ubwoko bwayo kugira inshangano zo gusohoka hanze kujya gufata manu yabaga yabateganyirije. Ibi bimeze nk'igitanda dusabwa kubyuka, tugasohokamo. Manu yari irenze ibyo kurya by'umubiri gusa. Icyo Imana yashakaga kwigisha abantu byari ukugira inshingano n'ubusabane nayo. Mu gitondo, ntabirangaza byinshi biba bihari kandi ubwenge bw'umuntu buba bukora neza; ni yo mpamvu, ibyo utafashe ku gihe, biyonga, ntibigire umumaro ukwiye ubuzima bwawe bw'umwuka. Imana iduha ibidukwiriye kandi biduhagije ku munsi, ntiduha bike cg byinshi. Imana yita kubyo dukennye byose.
| | |
| --- | --- |
| Ibyanditswe: | ITANGIRIRO 8:20; 12:8; 13:18 / KUVA 20:24-26; 16:3-4 / YESAYA 50:4 / ZABURI 5:3 / MARIKO 1:35 |